This shop has been compensated by Collective Bias, Inc. and its advertiser. All opinions are mine alone. #TeaProudly #CollectiveBias
Mother's Day is right around the corner and my hubby asked me the other day what I wanted to do to celebrate. I honestly couldn't really think of much specifically and then it dawned on me... On Mother's Day it would just be nice if maybe someone else took care of me for a change! That can look like a lot of things, but something simple like preparing a beautiful brunch for the mamas in your life can mean the world to her! I have created the perfect simple brunch for any Mother's Day celebrations that you may have! Surprise the sweet mamas in your life with my delicious Earl Grey Lemon Scones and Iced Green Tea, and make her feel extra special this Mother's Day!
Tea and scones are a match made in heaven and since the weather has turned warm recently, I thought iced tea would be a great alternative to a traditional cup of hot tea! I have long been a fan of Bigelow Teas and making iced tea with their tea bags couldn't be easier! One of my favorite flavors of tea happens to be the Bigelow Green Tea which I usually drink hot, but I have to tell you now that I have been making it iced, I think I love it even more! And because we are making this Mother's Day a tea themed brunch, I also created a delicious and buttery scone that incorporates classic Bigelow Earl Grey tea into the recipe that is utterly delicious! Talk about making the moms in your life feel extra loved...this is the way to do it guys!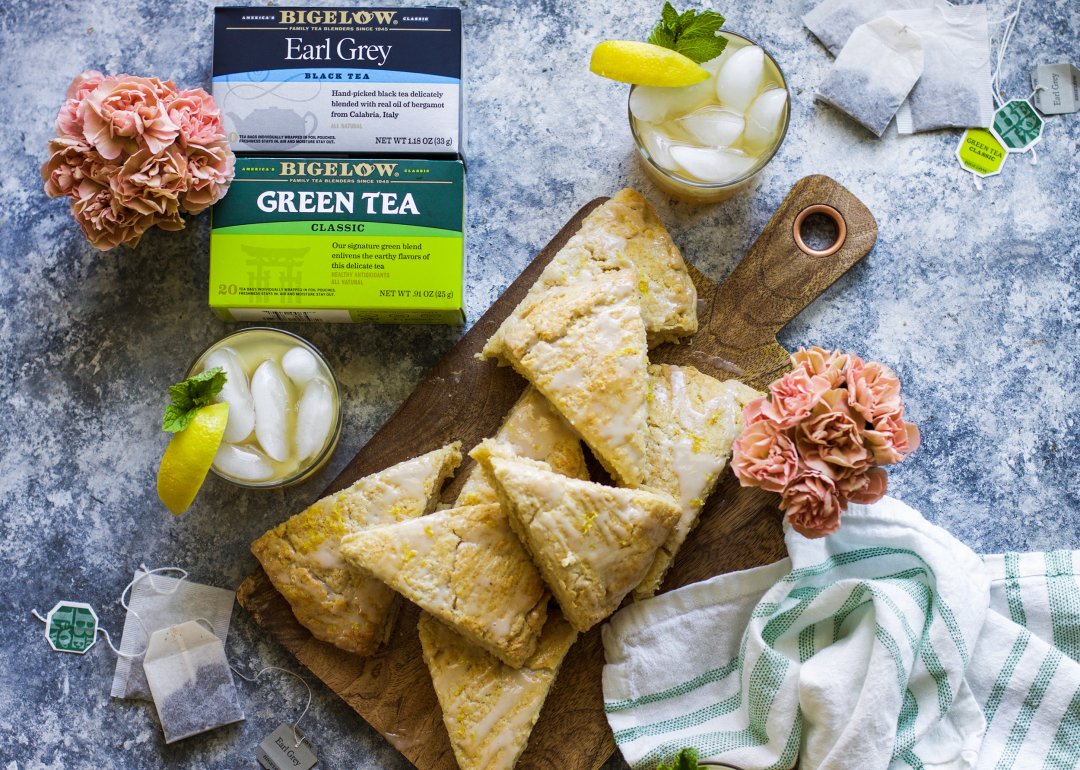 If you were feeling lost as to what you might want to gift your mom, I just gave you the answer! Bring some flowers over with a few of your favorite Bigelow tea bags, whip up some homemade scones served with some iced tea, and she will be so surprised at your thoughtfulness (and she will love the fact that she doesn't have to lift a finger!) The act of eating and drinking together really brings a sense of closeness for families and what better way to do that than with delicious Bigelow tea? Let all the women in your life feel how grateful you are for them by making them a delicious brunch homemade with love!
If the taste alone doesn't sell you, Bigelow Tea is wrapped in foil packaging to keep it fresh longer, is made in the US, and you will love the variety of flavors available! I picked mine up at my local Walmart right on the tea aisle and you can too!
If you are a regular tea drinker then you already know that it can be such a lovely part of your day. I love my afternoon cup of tea, it's one of my favorite moments that I get to have all to myself. I promise the women in your life will feel the same!
Ingredients:
For the Scones-
3 1/2 Cup of All Purpose Flour + extra for dusting
2 1/2 Tsp. Baking Powder
1/4 Cup Sugar + Extra for Sprinkling
1 Cup Very Cold Butter (2 Sticks)
2/3 Cup Milk + 2 Tbsp.
1 Egg
2 Tsp. Vanilla
2 Tbsp. Brewed Bigelow Earl Grey Tea
Juice from 1 Lemon + Zest
1/2 Cup Powdered Sugar
For the Tea-
4 Cups of Water
4 Bigelow Green Tea Bags
1/3 Cup Raw Honey
Juice from 2 Lemons
Fresh Mint to Garnish
Directions:
For the Scones-
Preheat oven to 400 degrees.
Brew Bigelow Earl Grey Tea by bringing 1/2 cup of water to a boil along with 1 tea bag and turn off heat and let steep for 5 minutes.
Combine flour, baking powder, 1 Tbsp. of lemon zest, and sugar in a large bowl.
Cut butter into small squares and then using your hands work the butter into the flour mixture until it is crumbly in texture.
Combine 2/3 cup milk, egg, and 2 tbsp. of the brewed Bigelow Earl Grey Tea in a small bowl and whisk to combine.
Pour the wet ingredients into the dry ingredients and mix with a wooden spoon until the dough has just come together. (The dough will be shaggy and slightly wet.)
Flour a clean surface and turn out dough onto the floured surface.
Dust hands with flour and knead a few times until the dough is smooth.
Form into a circle that is 1" in thickness.
Using a knife or pasty cutter that has been lightly floured, cut the dough into 8 triangles.
Place onto a parchment lined baking sheet.
Brush the tops of the scones with 1 tbsp. of milk and then sprinkle lightly with sugar.
Bake for 15-18 minutes until the scones are browned slightly.
While the scones are baking combine powdered sugar, the remaining 1 tbsp. of milk, vanilla, and juice from 1 lemon in a small bowl and whisk until smooth.
Let the scones cool slightly and then drizzle the glaze over top of the scones and continue to let cool completely.
Serve immediately or store in an airtight container for up to a few days.
For the Tea-
Bring 4 cups of water to a boil and then add 4 Bigelow Green Tea bags.
Turn off heat and let the tea steep for 10 minutes.
In the meantime combine lemon and honey in a pitcher.
Pour the warm green tea over the lemon honey mixture and stir until honey has dissolved.
Place into the refrigerator for at least two hours before serving.
Serve over ice with a garnish of fresh mint and a lemon wedge.
What are you waiting for? Head to your local Walmart and grab some tea for the moms in your life (and yourself) and host a meaningful Mother's Day brunch filled with delicious scones and yummy tea!